Zarya in a Tiara Is the Best Thing Ever
The latest
Mysticons
episode,
"Game of Phones,"
began with Princess Arkayna calling up her
newly-discovered twin sister
Zarya and asking for her tiara size. "I don't
do
tiaras," Zarya scoffed in response. Of course, in perfect comedic timing, the next shot was of a very unhappy Zarya sitting on a griffon with a small yet hilariously out of place golden tiara fastened to her short purple hair. This scene was very funny because it portrayed a
symbol of femininity
on a character who openly dislikes all things girly. It also goes to show
how far the princess trope itself has gone
in modern times from being a symbol of feminity to being a symbol of strength. More and more princesses are now
warrior archetypes
, while
damsels in distress
have become all but obsolete.
Of course, Zarya, in particular, is a special case. Like Proxima,
the red herring in the "twin sister" story arc
, Zarya was raised without a family or an identity. However, she and Proxima handled their similar upbringings very differently. Unlike Proxima, who internalized her angst until she turned to the dark side, Zarya became
openly cynical
, joining a pirate crew in her youth and regularly making snide or sarcastic comments. Until this point in the show, she seemed to be mostly in denial about being a princess even though she quickly accepted Arkayna as her sister. Zarya is exactly the sort of person who would say
princess culture
is bad for society, which made it both hilarious and revealing of the fact that princesses are just like everyone else when it forced on her anyway.
In making Zarya wear a tiara for the griffon performance, Arkayna meant to present her to Drake City as their new princess for the first time. Unfortunately, things didn't go quite as planned, but we still got to have a few laughs along the way. One thing that irks me about Mysticons is that it tends to gloss over important plot points in favor of action sequences. We never actually got to see the people of Drake City's response to learning that there was a secret princess nobody knew about. Even their obnoxious stepbrother Gawayne immediately began calling Zarya his stepsister without truly reacting to the news for the first time. I was wondering if the show would ever address how Zarya reacted to being a princess as a notorious tomboy, so this episode was satisfying in that respect.
Of course, I personally would love to see Arkayna and Zarya in full regal ballgowns, but Drake City doesn't seem to be the type of kingdom where royalty is required to dress so formally for public events. In fact, Zarya's signature jeans and hoody were a big contributor to why her tiara looked so hilariously out of place. Many
modern princesses
do wear jeans, and there's nothing wrong with that, just like there's nothing wrong with
wanting to dress up
from time to time. In seeing Zarya's full outfit for the performance, it is very clear that one thing in this picture does not belong. Not every girl can react like Amy Farrah Fowler did in
The Big Bang Theory
to receiving a tiara.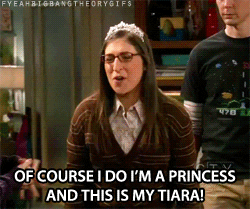 So, why is Zarya in a tiara basically the best thing ever? Well, for one thing it rhymes, making it a lot of fun to say! For another, it shows that any girl can be a princess, even one who's a tomboy and wants absolutely nothing to do with it. Now that Zarya knows she has a family, she will have to accept the good along with the bad. It's clear that she already loves Arkayna as her sister, but having a family is complicated. Sometimes it means having to deal with things you don't want for the people you love. For Zarya, that thing is being a princess. It almost makes you wonder how Proxima would have reacted, but her
submissive nature
seems more fitting for the role. I think Mysticons does a good job of encouraging kids to be nice to their siblings because Malvaron's sister went rogue along with Arkayna's almost-sister. Now Zarya is just going to have to grin and bear it.