Your Favorite Princess Cartoons Are Making a Comeback
It seems like everywhere you turn, a series from our childhood is getting revived. From Fuller House to Raven's Home, all of our favorite characters have grown up and gotten smartphones. There was even
a new Hey Arnold! movie
recently. What does that mean for princesses?
A ton of live-action remakes
, for one thing. That doesn't mean that animation is completely dead, though. Lately, there have been several announcements about our favorite childhood princess cartoons getting revived with new artwork and new stories. This is good news for traditional artists because it means that CGI still hasn't completely taken over the world of animation. It also means we have an opportunity to relive the things that made us happy as children without the awkward feeling of being outdated.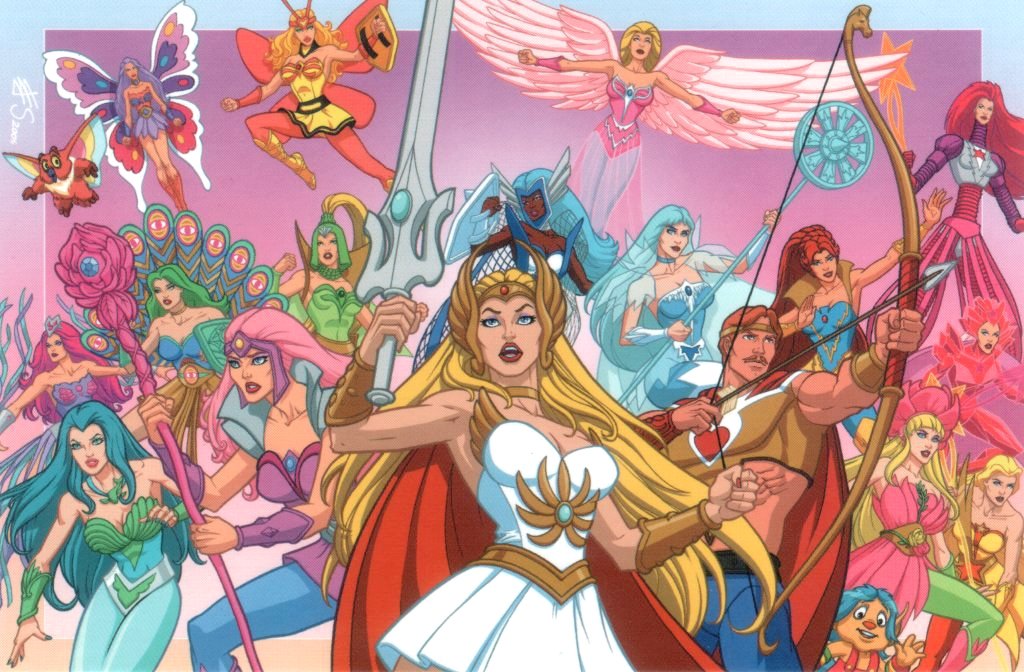 The most recent announcement is about everyone's favorite animated
warrior princess
from the '80s,
She-Ra: Princess of Power
. This reboot of
He-Man
that started as a good idea, but was poorly executed with transparent stories and cheap animation that took lots of shortcuts. The show's untapped potential makes it a perfect candidate for a modern-day makeover. Fortunately for us,
Dreamworks has partnered with Netflix
to make that happen sometime next year. The show's creators describe it as an "epic tale that celebrates female friendship and empowerment," making it a perfect weapon to use against princess-haters. Princess Adora is a heroic character who is capable of surpassing any feat without sacrificing her feminity in the process. The show had a ton of colorful and creative characters (pictured above) who never got their fair share of backstories or unique personalities. It's wonderful that this creative idea will have a chance to redeem itself and improve upon what it once was in the past.
Next, we have some big news for all you
Magical Girl
fans.
Cardcaptor Sakura
, a popular anime from the late '90s, is coming back with a brand new series in just a few weeks! Unlike
Sailor Moon Crystal
, which was a full reboot, Sakura's
Clear Card Arc
is going to be an entirely new story that takes place a little after the events of the original show. What's that, you say? Sakura isn't a princess? Hold your tongue! Another series produced by Clamp in 2005 called
Tsubasa Reservoir Chronicle
featured both Sakura and her lovely friend Tomoyo as princesses. Yes, the show took place an alternate universe and gave both characters completely different lives, but it still means they count as princesses in some aspect. The trailer for
the Clear Card Arc
looks very promising. It tells a new story about the Clow cards that Sakura mastered in the original series mysteriously turning clear. She must solve the mystery and return them to normal. It's very nostalgic seeing her and Shaoran having grown up a bit. It would be nice to have more of an opportunity to explore their relationship some more considering how the first series ended.
Finally, there has been some
fluctuating production news
regarding a series entitled Avalon: Web of Magic. The show is a low-budget CGI production of
a book series
that came out in the early 2000s that was loosely based off
my favorite '90s cartoon
,
Princess Gwenevere and the Jewel Riders
. I was never as big a fan of the book series as I was of the cartoon, but this is probably the closest thing that we will ever get to a Jewel Riders reboot. Unlike Princess Gwenevere's setting, which was a pure fantasy universe, Web of Magic focuses on three ordinary girls living in the real world who discover enchanted jewels that lead them to a magical world threatened by a wicked sorceress. The books featured song lyrics that came straight out of the Jewel Riders series performed by a
faery
band called B*Tween. The songs used to be available as MP3s on their website, which makes me wonder if the Web of Magic series will feature these songs as well. The manga-inspired production art released so far is not the most creative I've seen, but it does appear to have a similar feel to it as Jewel Riders with a more modern style of animation. Since it is not being produced by a major studio, there is no guarantee that the show will actually find its way to a network. Only time will tell.
It's nice to see that the stories we loved as children have not been forgotten, especially in these tough times. Though there's no way to fully recapture the magic of seeing a beloved character on screen for the first time, it's good to know that our favorite stories are living on in some form. Putting a modern-day twist on these tales is the perfect answer to our fantasies about what our favorite childhood heroines would be like if they were alive today. There is definitely a lack of originality in the media these days, but new updates on old princess stories are still better than no princess stories at all.